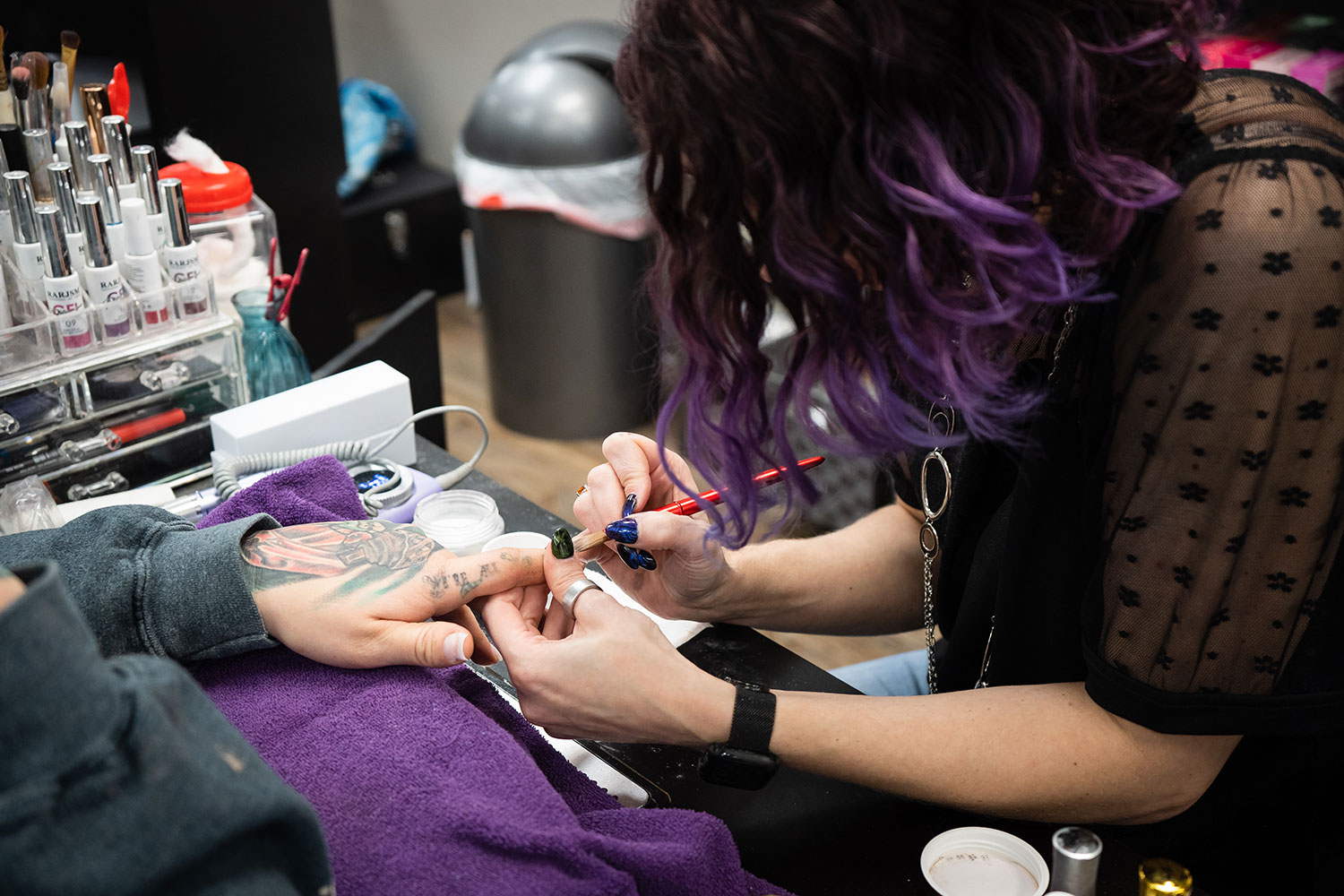 Spa Manicures
Express Manicure
An anytime treat! The manicure is complete with clipping, trimming, and polishing.
30 Minutes $20+ Gel Polish $30+
The Big Dipper Manicure
Nails are filed and hands are exfoliated with moisture rich sea salts, followed by a high-intensity hand cream. Enjoy it all plus the posh perks of our ecofin paraffin. Oh, what a feeling!
60 Minutes $25+ Gel Polish $35+
Full Set of Nail Extensions
Acrylic shaped and formed for a style and feeling of natural nails. Personal Sanitation Packets FDA Approved Products.
Full Set $44+
Gel Polish $54+
Color Sets $50
Color Fill in $40
Nail Art $10 per nail
Fill-in 2 week rebalance of nail extension $26+
Fill-in 3 weeks $31+
Dip
Dip is a longer lasting powder dip formula that can last up to 4 weeks without using a UV light to set the polish!!
Dip $41+
Dip French $45+
Dip Ombre $50+
Add Tips to Dip $10
*Please mention when booking if you have dip on prior to your appointment as you will need to arrive 15 minutes early to soak.
Also, please mention if you would like to add tips while booking.
Spa Pedicures
Express Pedicure
Indulge yourself in 30 minutes. Toenails are clipped, filed and feet are exfoliated with gentle salts. Cuticles are pushed and nipped, after that, we top it off with a polish to perfection.
30 Minutes $36+
Neat Feet Pedicure
The Express Pedicure plus a nitty-gritty foot filing and an unbelievable leg and foot massage. Great for those who love to show their toes.
60 Minutes $41+
Foot Fetish Pedicure
Dry, cracked feet? We have the pedicure for you! Again, you get all the goodies like clipping, filing, exfoliating, and massage, but the extravagance doesn't stop there. Benefit from our ecofin paraffin with your tired tootsies wrapped in warm booties. Amazing!
60 Minutes $46+
Indulgence Pedicure
In need of some serious pampering? This Pedicure is for you!! You will get all of the amazing things that regularly come with a pedi such as the clipping, filing, heel buffing but with extra luxury & Indulgence!! You'll get a hot stone massage on your feet and legs, a mud mask to help remove purities from the skin and our luxurious warm paraffin oil with heated booties!!! So relaxing!!
75 Minutes $60+
*Pricing Based on a Level System. Price depends on which Level the Service Provider is that the Guest is placed with. Prices shown here are Level 1 pricing.
Spa Facials
Express Facial
Perfect choice for those first timers or even regulars. Suitable for all skin types. This facial includes customized cleansing, herbal enzymes with steamed towels, along with a mask and moisturizers selected just for you skin type.
30 Minutes $40+
Deluxe Signature Facial
A one-of-a-kind treatment starting off with a SkinReading consultation where your Esthetician will address your skin's biggest concerns. Whether you have Acne, are in need of an anti-aging treatment or just need a deep-down cleanse we will customize your treatment especially for you! It starts with through skin cleansing followed by exfoliation all with steam to prepare your skin to soak in all of the clinical ingredients. Next enjoy a face massage where your mask will then be applied for ultimate results. You'll see and feel the renewing benefits immediately as the dullness disappears and your skin feels radiant once again!!!
60 Minutes $65+
Series of 3 – 1 hour facials $180+ (savings of $15)
Back Facial
The back facial is a luxurious, exfoliating treatment to leave your back feeling smooth and looking radiant. Choose the hour for extra care, extractions and y0u'll also get a bit of a back massage! A customized treatment depending on what your skin needs.
30 Minutes $35+
60 Minutes $60+
Microdermabrasion
Our Diamond Microdermabrasion is a non-invasive procedure that uses diamond tips to exfoliate the surface of the skin while the power of vacuum suction removes dead skin cells, blackheads and debris. This treatment improves skin elasticity and tone as well as minimizes the appearance of fine lines and wrinkles. Microdermabrasion also stimulates the production of an underlying layer of skin cells with higher levels of collagen and elastin, which further improves your skin's appearance. More benefits are that it helps fight acne scars, age spots and reduces hyperpigmentation as well as enhances your skin care product performance. This treatment is suitable for all skin types and will not cause any scarring, color changes or discomfort.
Microdermabrasion with a 1/2 Hour Facial $80+
Microdermabrasion with a 1 Hour Facial $105+
Microdermabrasion, Dermaplane & a Mini Facial $100+
Microdermabrasion, Dermaplane & 1/2 Hour Facial $120+
Microdermabrasion, Dermaplane & 1 Hour Facial $145+
Dermaplane
Dermaplaning is a different method to exfoliate your skin that consists of gently scraping off the top layer of dulling dead skin cells and removes the vellus hair (peach fuzz) that traps dirt to reveal a smoother, brighter complexion. Getting this service done will allow for all of your skin care products to work better and be able to go deeper into your skin layers. This procedure is good for all skin types, no downtime, instant results and pairs great with a Hydro Jelly Mask!!!
Dermaplane with a mini facial $60+
Dermaplane with a 1/2 hour facial $80+
Dermaplane with a hour facial $105+
* All of our Estheticians are Dermaplane Certified 
Skin Treatment Enhancements
Eye Treatment
Reduce the look of crows feet, dark circles and puffiness. This anti-aging treatment is perfect for anyone wanting fresh, bright and younger-looking eyes!
 $30 with any Skin Treatment
Chemical Peel– This creates a more intense exfoliation to reach deeper epidermal levels. Your Esthetician will choose the peel for your skin's exact needs. Perfect to add on your facial to achieve faster results.
$25 with a Facial
Hydro Jelly Mask
Our Hydro Jelly Mask helps reduce the appearance of fine lines and wrinkles. These masks are very hydrating, rich in minerals, restores skin tone, detoxifies and has collagen. Jelly Masks are perfect to end your facial with as it pushes the nutrition into the skin.
$25 with a Facial, Dermaplane or Wax
LED Light Therapy
A total of 6 colors to target your skin issues! This non-invasive therapy treats acne, inflammation, fine lines & wrinkles, sun spots, age spots and so much more!! Gives you instant results and an amazing GLOW!!!
$20 with any Skin Treatment
High Frequency Skin Therapy
This treatment helps "zap" blemishes and inflammation to ensure a smoother complexion 90% faster. Also, its great for anti-aging as it oxygenates and energizes skin for a more youthful look!!
$10 with any Skin Treatment
Facial Cupping
Cupping on your face gives you a "instant facelift" as well as helps with sinus drainage.
$15 with a facial
Neck Firming
Treatment designed to firm and tighten sagging neck tissue.
$15 with a Facial
*All of our Bioelements Facials are customized to your skin type and specific skin care needs. We also offer extractions with our 60 minute facials upon request. It is recommended that you get a facial every 4-6 weeks to achieve and maintain results. Ask our Esthetician which facial is best for you.
Massages & Treatments
Melt Away Massage
A Swedish massage is the Rx for stress relief. This classic massage uses a variety of strokes and techniques to promote relaxation, well-being, and improved circulation. Recommended for regular stress reduction and for those who have never had a massage. Let your body and mind melt away.
30 Minutes $40+
60 Minutes $65+
90 Minutes $90+
Untie The Knots Massage
Detailed therapeutic bodywork to relieve stress and areas of tension in muscles that are mistreating you most. The therapist will focus on those specific areas using deep bodywork techniques.
30 Minutes $45+
60 Minutes $75+
90 Minutes $100+
Couples Massage
Share the experience…you and a special someone can relax and unwind together. Both massages are performed side by side in our couples massage room. Great for a Romantic get away or a wonderful day of pampering with a friend. Enjoy a moment of peace and tranquility together!
60 Minute Melt Away $150+
90 Minute Melt Away $170+
60 Minute Untie the Knots $170+
90 Minute Untie the Knots $210+
~Due to demand for Couples Massages please schedule at least 2 weeks ahead.~
Prenatal Massage
A relaxing Swedish massage with extra perks for the expecting mother from our certified massage therapist.
30 Minutes $45+
60 Minutes $70+
Salt Glow
A simple body treatment with profound results. Put an end to dull, dehydrated skin and reveal a healthy appearance. (Please refrain from shaving the day of treatment.)
30 Minutes $40+
Waxing
(Starting At)
Eyebrow Wax Design $14+
Eyebrow Wax Maintenance $12+
Chin $16+
Upper Lip $14+
Nostril $10+
Ears $10+
Bikini– 2 fingers width outside of bikini line $35+
French Bikini– 2 fingers width inside & outside bikini line $45+
Brazilian– Everything including the back $60+
First time Brazilian- $65+
Brazilian Hydro Jelly Mask– A naturally soothing anti-inflammatory mask for after your wax that relieves pain, reduces redness and speeds up the healing process! $20+
Half Leg Lower $40+
Half Leg Upper $60+
Full Leg no Bikini $70+
Full Leg w/ Bikini $85+
Stomach $30+
Chest $50+
Women's Arm $40+ Men's $55+
Women's 1/2 Arm $30+ Men's $40+
Back $50+
Underarms $25+
The professional service charges above are estimates, which apply in most cases. This may vary according to time and if any "extras" are needed to provide the service. Please take the time to read on how to PREPARE FOR YOUR WAX so you will be well informed.
Preparation For Body Waxing
Please allow for hair growth to be at least 1/4 inch prior to a waxing service which is approximately 10-14 days of growth. SO NO SHAVING prior to your waxing service. 24 hours before your appointment please lightly exfoliate. This helps to lift ingrown hairs prior to your service. DO NOT TAN 24 hours BEFORE or AFTER your waxing appointment as this may cause discomfort and peeling of the skin. Taking Ibuprofen 30-60 minutes prior to your waxing service may help alleviate any discomfort.
If you are waxing for a SPECIAL OCCASION such as a wedding or vacation you will want to be WAXED 3 TIMES (usually once a month for 3 months) prior to your event. This will give you plenty of time to see how your skin reacts to being waxed and for your hair growth pattern to come to the surface.
At Home Care after your Wax
We recommend exfoliating 2-3 times a week to all waxed areas as this will help with not getting ingrown hairs. We carry AMAZING products for this!! Do not shave in between services as this will disturb the hair growth pattern in between waxing. After your wax you will not want to wear tight clothing, work out or get in a hot tub/sauna for 12 hours as this leads to the potential for ingrown hairs. We recommend wearing sunscreen on any waxed areas exposed to the sun.
You will want to schedule a wax every 4-6 weeks when your hair growth has reached 1/4 again.